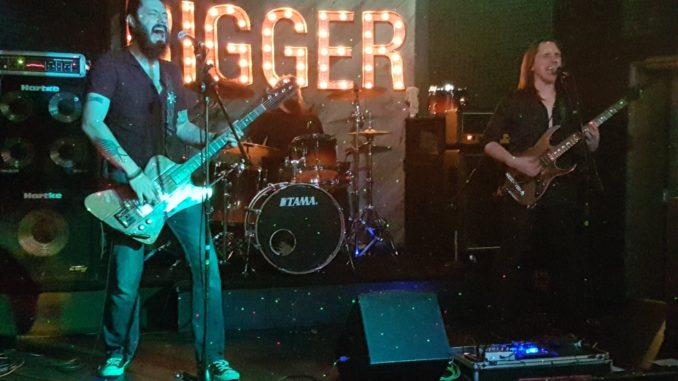 Setting: Dive-y rock bar in the middle of England.
Protagonist: a 40-something woman (me) who cut her live-show teeth on '80s New Wave music.

Scene:
Sweat pools in my bra and underpants, but still I dance on to songs I don't even know by
an alt-rock band I've never heard of before. I may be actively banging my head. I introduce
myself to the whole bar, and become BFFs with Fiona, Andy and Angela – all likely older than I am. I announce regularly in my newfound British accent, "I went for a wee in The Rigger!"
How does a middle-aged American woman whose teenage bedroom featured posters of Adam Ant and Duran Duran end up in a metalhead's wet dream in a town called Newcastle-Under-Lyme?
Funny story, that.
I blame it on peer pressure.
I've been trying to finish a book proposal for nearly two years, so I booked a mini writer's retreat far from my Atlanta life: I went to stay with my friend Hannah in Uttoxeter, a market town in Staffordshire, England. Another friend lives in Stoke-on- Trent not far away, known for its pottery industry.
The Stoke friend, Clair, suggested Hannah and I go see her friend's band, Jesse's Divide at a bar called The Rigger. I can't say she didn't warn me about that bar.
"It's not a posh place," she said. "It's a small rock venue where it gets hot and sweaty and people spill drinks everywhere!"
Spot on.
The Rigger bills itself as, "Rock temple, live music mecca … not too shonky." (I'm American. I
have no idea what that means.)
Two songs into the Jesse's Divide set, I marched to the merch table in the back of the bar.
I bought an EP.
I bought a shirt.
I would have bought the bass player if I could have.
"I'm married," he told me when Clair and I tried to buy him a drink.
"I am too," I said. "But I'm not dead. I can still look. And you should be rewarded."
The whole band should be rewarded for making this typically sedentary mother of two get off
her ass and move. I really had no choice: All the whanging grabbed me by the spine and threw me on the dance floor.
It should be no surprise that the bass riffs are what first sucked me in. Part of the reason, I'm
sure, is that I played bass back in those Antmusic days. I also had a fling with a sleek Tama drumset with shiny Zildjian cymbals.
Jesse's Divide formed in 2012 and is made up of Si Ward on vocals and guitar, Rob Barnes on drums, and the (married) Nick Cotton on bass and backing vocals – all lovely people. In their words, they play "heavy and groovy songs about love, friendship, dodgy porn and giant robots."
They also play excellent covers of  Rush's classic "Tom Sawyer" and Kenny Loggins' "Danger Zone."
Cotton and Barnes set the rhythm for Ward's rangy guitar and matching vocals. To describe their original work, I have to use my limited rock band knowledge gleaned from binge-watching early MTV when I was supposed to be asleep.
Think one part Scorpions with three parts Black Sabbath with a Salt Bae dash of Guns N' Roses. Harder than Halen, less shreddy than Metallica, yet heavier than Foreigner.
I turned to Clair at one point and said (well, yelled in her hair in the vicinity of her left ear) that they reminded me of Destroyer-era Kiss. (Yes, I do like Kiss. Remember what other song is on that album, and you get the interest there.) She said Jesse's Divide reminds her of Rush, especially Ward's vocals. She also agrees with me on Black Sabbath, updated though and "tipping over into heavy and bassy riffs that you can feel as an experience rather just listen to."
Right. What she said.
Besides their clear musical prowess, they know how to put on a show, interacting with the
audience with humor and affection.
I'm sold.
The Jesse's Divide discography includes three EPs: Metadome (2015), Strange Alchemy (2016) and Other Worlds Than These (released last week). All of these are available on iTunes and Spotify.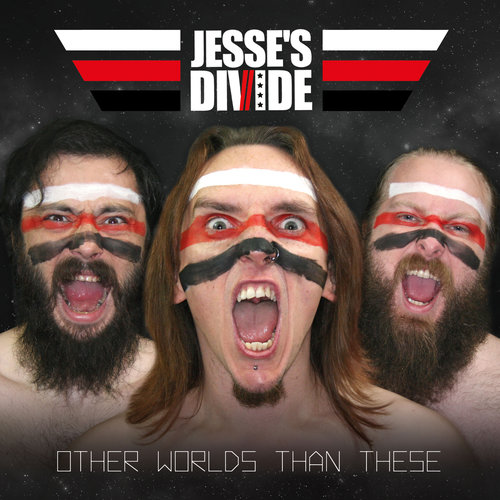 I recommend a listen. If they can convert a Durannie, then the world is their oyster.
Jesse's Divide also will be one of 25 metal bands playing the Lostock Festival in Northwich,
UK, in July with heavy metallers like Obey and Dakesis. Maybe I'll see you there. I'll be the dodgy Yank having a mid-life crisis. And loads of fun.
About the Author: Beth E. Concepción is an Atlanta-based writer and writing professor who likes bad taxidermy, reality shows and, apparently, alt-rock music. Contact her on Twitter to follow more of her fantastic delves into the metal underworld and more @BethCon5